Constitution and Comprehensive Codes of Justice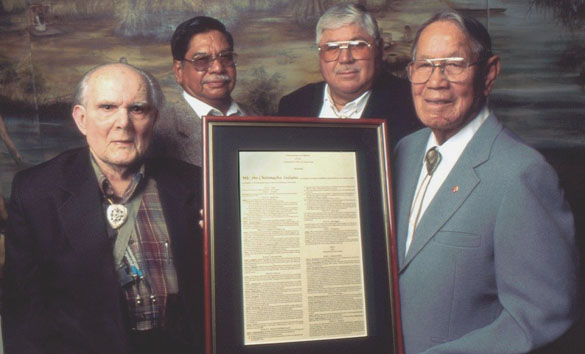 On September 14, 1970, the Tribe adopted a Constitution and bylaws, and the traditional system of government was replaced with a Tribal Council. The Council consists of five elected officials: a Chairman, Vice- Chairman, Secretary/ Treasurer and two councilman-at-large. The Chitimacha Tribe, as a sovereign nation, shares a unique government-to-government relationship with the United States.
---
Pending Code Revisions
Pending Code Revisions
The Chitimacha Tribal Council has proposed the revision of the Chitimacha Comprehensive Codes of Justice, as follows:
Title I - Clerk of Court revisions
Title II - Criminal Procedure revisions
Title III - Criminal Offense Code revisions
Title IV - Civil Procedure revisions
Title XXVIII - Civil Infractions Code revisions
Pursuant to the "Procedural Guidelines for Implementation of Ordinances for the Revision Process", adopted by the Tribal Council, the General Council will have the opportunity to:
Review of these proposed revisions at the Tribal Courts and Tribal Office Building during regular office hours beginning, Monday, August 7th, 2023 through Monday, August 28th, 2023, or can also be reviewed at the chitimacha.gov website. (* A copy can be obtained by calling the Chairman's Office at (337) 923-4973 or Chitimacha Tribal Court at (337) 923-7806).
All written comments must be submitted by Monday, August 28th, 2023, to "Tribal Ordinance Comments", Chitimacha Tribe of Louisiana, P.O. Box 661, Charenton, Louisiana 70523.
End Pending Code Revisions
---
Chitimacha Tribal Constitution
Chitimacha Tribal Court - Rules of Court
Please note that the Chitimacha Tribal Courts - Rules of Court have been revised to include Rule 15. Records Retention Schedule. Any records that you may have on file with the Chitimacha Tribal Courts may be subject to destruction in accordance with Rule 15. Records Retention Schedule adopted by Chitimacha Tribal Council Ordinance #01-21. If you should have any questions, please do not hesitate to contact Chitimacha Tribal Courts at (337) 923-7806.
CCCJ Title I - Courts - Table of Contents
CCCJ Title IA - Peacemaker Court - Table of Contents
CCCJ Title IA - Peacemaker Court
CCCJ Title II - Criminal Procedure - Table of Contents
CCCJ Title II - Criminal Procedure
CCCJ Title III - Criminal Offenses - Table of Contents
CCCJ Title III - Criminal Offenses
CCCJ Title IV - Civil Procedure - Table of Contents
CCCJ Title IV - Civil Procedure
CCCJ Title V - Child Welfare - Table of Contents
CCCJ Title VI - Family Law - Table of Contents
CCCJ Title VII - Traffic Code - Table of Contents
CCCJ Title VIII - Housing Authority - Table of Contents
CCCJ Title VIII - Housing Authority
CCCJ Title IX - Tribal Gov Corps and Tax - Table of Contents
CCCJ Title IX - Tribal Gov Corps and Tax
CCCJ Title X - Election Rules and Regulations - Table of Contents
CCCJ Title X - Election Rules and Regulations
CCCJ Title XI - Tribal Enrollment - Table of Contents
CCCJ Title XI - Tribal Enrollment
CCCJ Title XII - Gaming Ordinance - Table of Contents
CCCJ Title XII - Gaming Ordinance
CCCJ Title XIII - Real Estate - Table of Contents
CCCJ Title XIV - Tribal Licenses and Permits - Table of Contents
CCCJ Title XIV - Tribal Licenses and Permits
CCCJ Title XV - Environmental Code - Table of Contents
CCCJ Title XV - Environmental Code
CCCJ Title XVI - Commercial Code - Table of Contents
CCCJ Title XVI - Commercial Code
CCCJ TITLE XVII - Limited Liability Code - Table of Contents
CCCJ Title XVII - Limited Liability Code
CCCJ Title XVIII - Tribal Bond Legislation - Table of Contents
CCCJ Title XVIII - Tribal Bond Legislation
CCCJ Title XIX - Abandoned Property Code - Table of Contents
CCCJ Title XIX - Abandoned Property Code
CCCJ Title XX - Foreign Judgment, Wage Executions, and Subpoenas - Table of Contents
CCCJ Title XX - Foreign Judgments, Wage Executions, and Subpoenas
CCCJ Title XXI - Estate Planning and Probate Law - Table of Contents
CCCJ Title XXI - Estate Planning and Probate Law
CCCJ Title XXII - Sex Offender Registry Code - Table of Contents
CCCJ Title XXII - Sex Offender Registry Code
CCCJ Title XXIII - Establishment of The Chitimacha Fire Prevention Bureau - Table of Contents
CCCJ Title XXIII - Establishment of The Chitimacha Fire Prevention Bureau
CCCJ Title XXIV - Immunity from Liability for Tribal Officials and Employees - Table of Contents
CCCJ Title XXIV - Immunity from Liability for Tribal Officials and Employees
CCCJ Title XXV - Exclusion Ordinance - Table of Contents
CCCJ Title XXV - Exclusion Ordinance
CCCJ Title XXVI - Flood Damage Prevention Code - Table of Contents
CCCJ Title XXVI - Flood Damage Prevention Code
CCCJ Title XXVII - Chitimacha Tribal Tax Ordinance - Table of Contents
CCCJ Title XXVII - Chitimacha Tribal Tax Ordinance
CCCJ Title XXVIII - Civil Infractions Code - Table of Contents
CCCJ Title XXVIII - Civil Infractions Code
CCCJ Title XXIX - Chitimacha Public Health Authority and Quarantine and Isolation Code - Table of Contents
CCCJ Title XXIX - Chitimacha Public Health Authority and Quarantine and Isolation Code
---