Museum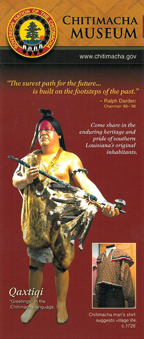 The Chitimacha Museum preserves and promotes the enduring heritage and pride of Southern Louisiana's original inhabitants.  Open Monday – Friday from 9:00 am – 4:30 pm. Lunch hour is 12- 1:00 pm. (Saturday admission by appointment only. Please call at least 2 weeks in advance to set up your appointment.). Groups of 15 or more should call in advance. Admission is FREE, but donations are greatly appreciated.
We are closed all Federal Holidays and some additional days. If you plan to visit during a holiday season, it is best to call in advance to confirm holiday hours. Please see the list below, which covers most, but not all of the days that we are closed.
New Year's Day, President's Day, Memorial Day, Independence Day, Martin Luther King Day, Easter Day (and the Monday after), Labor Day, Native American Indian Day,  Veterans' Day, Thanksgiving Day (and the Friday after), and Christmas Day
Contact Information:
Museum Services Specialist
Notice: The Chitimacha Museum is currently undergoing some staffing changes. To ensure that someone will be on-site when you arrive, please call in advance. Thank you for your patience and consideration during this time.
Email: museuminfo@chitimacha.gov
Address: 
3289 Chitimacha Trail
Charenton, LA 70523
337-923-4830