Chairman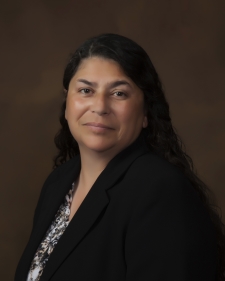 Melissa Darden
Melissa Darden is the daughter of the late Huey and Aline Darden. Melissa has three sons and five grandchildren.  She has lived on the reservation most of her life and has served the Tribe in many various aspects.  She has served on the Scholarship Committee for seventeen Years, Chairman of the Election Board for four Years, Member of the Constitutional Amendment Committee for one year, Vice-Chairman of the Housing Authority for two years, and Lay Advocate for the Chitimacha Tribal Courts for seventeen years.  Melissa is one of the few last remaining Basket weavers of the Tribe.
Melissa worked at Cypress Bayou Casino Hotel for twenty-three years and in her years working there she has held various positions such as the Retail Manager, Table Games Dealer, Assistant Shift Manager of Table Games, Database Analyst and Manager on Duty.  During her years at the casino, she has also owned a Sears Retail Outlet for four years and 50% Owner in a Partnership business called Marketing Essentials for one year.
Melissa's education consists of an Associate's Degree in General Studies obtained in 2002, and a Bachelor's of Science Degree with a Major in Business Management obtained in 2005.  She has also attended and obtained certificates in: Access 2007, Writing Queries MS 2778 Using SQL 2008 T-SQL, Course 6234A Implementing and Maintaining Microsoft SQL Server 2008, Course 6235A Implementing and Maintaining Microsoft SQL Server 2008, and Course 6236A Implementing and Maintaining Microsoft SQL Server 2008.