Tribal School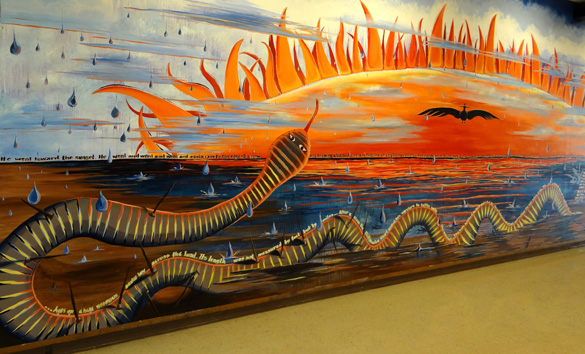 Chitimacha Water Legends Mural created by Chitimacha Tribal artist, Sarah Sense, with CTS students. Please do not reproduce without permission.
Chitimacha Tribal School's basic purpose is the development of Chitimacha students who are capable of effectively participating in tribal, local, state and world affairs. It is the intention of the Chitimacha Tribal School to prepare students who can meet the challenges and assume responsible roles within the family and community to promote tribal self-determination and make positive contributions to the society in which they live. The development of such individuals begins with teaching good citizenship, preservation of cultural heritage, and above all, the essentials of superior education.
We, the School Board, administration, faculty, staff, students, and parents of the Chitimacha Tribal School, attest the following beliefs:
We believe that the school has a responsibility to maintain and to strengthen the principles of American democracy through instruction and practice. We believe that it is the school's responsibility to provide a teaching and learning climate essential for the physical, intellectual, emotional, moral, cultural and social development of the students.
We believe that all the students can learn if their individual needs and unique characteristics are recognized. We believe that the purpose of the school is to educate all students to their maximum potential, taking into consideration their strengths and weaknesses and especially their unique individual learning styles.
We believe that an instructional curriculum should be flexible enough to allow teachers freedom in selecting content presentations to benefit the students more effectively through various techniques and strategies. A variety of learning experiences, both curricular and extra-curricular, designed to develop students' cognitive, affective, and psychomotor abilities, should be available to all students.
We believe the students will be given the opportunity to learn leadership including problem solving, discipline, communication, and organization through a well-rounded educational program so that they are prepared for leadership roles in life.
We believe the students will learn how to be achievers by learning daily planning and goal-setting, responsibility and self-evaluation so that they can become successful in their personal and professional lives.
The school is responsible for meeting the educational needs of all Chitimacha students and thus remains accountable for its practices.
Pre K LA 4 2020-2021 for Public Comment:
All comments can be forward to the Chitimacha Tribal School by phone or by email.  Call (337) 923-9960 or email your comments to schoolinfo@chitimacha.gov
COVID:
Registration for 2023 - 2024
School Supply List for 2023 - 2024
Tribal School Monthly Calendar, Breakfast, and Lunch Menu
Calendar
Breakfast Menu
Lunch Menu 
After School Care
Contact Information:
Tanya Rosamond, Principal
Nikki Polito, Office Manager
schoolinfo@chitimacha.gov
Mailing Address:
3613 Chitimacha Trail
Jeanerette, LA 70544
Physical Address:
3613 Chitimacha Trail
Charenton, LA 70523
Phone: 337-923-9960
Fax: 337-923-7346